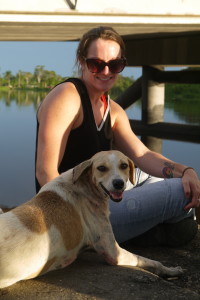 My studies in Fisheries and Wildlife have brought my passion for conservation and wildlife to hands on experience. I have traveled to Suriname from the United States, from specifically the state of Florida. I am in the fifth week of my internship with the Green Heritage Fund of Suriname. I work closely with Monique Pool who is the founder of GHFS. She was nominated as a CNN Hero in 2015 for her major contributions to sloth rescue and rehabilitations during displacement from deforestation and pet trade, as well as her other environmental achievements.  The Green Heritage Fund of Suriname has a lot of opportunities I am able to participate in. I even started my first day by feeding the orphaned baby sloth named Glen.
My time here has already allowed me the chance to work with; three-toed sloths, two-toed sloths, a giant anteater, and two lesser anteaters. I experienced the hard work it takes to care for these exotic animals. I have participated in four sloth rescues, as well as, watched two three-toed sloths and one two-toed sloth be released in healthy condition into the Amazon rainforest.
All of these animals are in need of around the clock feeding, cleaning and monitoring. The work is strenuous, but most of all positive and fun. However, we must continuously pick the leaves for feeding our three-toed sloths. This part of the adventure can be dirty, muddy and worst of all full of attacking ants. Picking leaves in many different regions can be challenging to find the perfect tree suitable for the animals. The preparation for the animal feeding is quite expensive and time consuming, so the more help the better.
I have joined two dolphin monitoring tours on beautiful Sundays. These days proved to be rewarding experiences each time. Each time out on the boat we saw many estuarine dolphins actively showing off for the boat. On my last trip, the boat stopped at Braamspunt, a sand spit in the Suriname River (braamspunt.org), to visit the local fishermen and see what type of shrimp and fish they catch daily.
I am happy to be here and continue this great learning experience.