While we had a lot of plans for the first six months of this project, a lot of the activities had to be postponed or adapted due to COVID-19. Initially, we had planned to hold school-based training events in April 2021 in various secondary (MULO) schools in both Nickerie and Coronie. However, due to the large backlog in the educational process caused by the pandemic and multiple lockdowns, these events were postponed until November 2021. In the meantime, we are working with Media Producer Legacy In Action to create animated short films about mangroves for use in education. If we can't visit the schools in person, we will try to visit them virtually.
Another one of our engagement activities, the World Ocean Day 2021 virtual celebration, was organized in June. While it was unfortunate that this event had to be moved online due to the pandemic, it allowed us to collaborate with organizations in Guyana and make the celebration a binational event! The primary focus of the event was land-based sources of pollution and their adverse effects on ocean and human health and it featured live sessions with keynote speakers, such as Dr. Tiara Moore, and virtual information booths from Surinamese and Guyanese organizations. It was attended by 227 people from 14 countries! You can check out our YouTube page to see the World Ocean Day 2021 playlist if you missed it.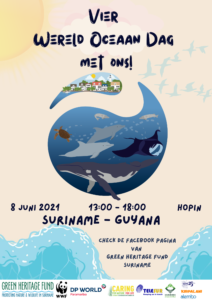 To shine a light on one of the biggest land-based sources of pollution, plastics, we also held a televised online debate on plastic pollution. The debate was broadcasted on three television stations and live-streamed on YouTube. During the debate representatives from different organizations discussed the impacts of plastic pollution on the ocean and human health as well as alternatives to single-use plastics.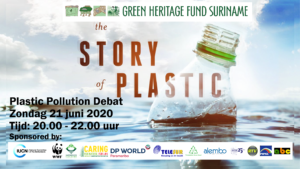 In August, we focused on planning summer vacation activities for September and started working on the activity boxes. One of the aims is to have the participants of the activity boxes present their boxes at the Mini Mangrove Fair that's planned for 2022. Lastly, we also arranged for The Backlot to hold a workshop in April-May 2022, during which children will be trained in using social media to advocate for mangrove protection. 
In short, the COVID-19 pandemic presented significant challenges to GHFS's efforts, including postponing school visits and difficulty engaging with stakeholders. However, just like many people and organizations were forced to do in this unprecedented time, we adapted our plans and activities by organizing smaller, socially-distanced extracurricular activities that required advanced registration and exploring virtual and smaller in-person meetings with stakeholders who do not have access to the internet.
Stay tuned for the next blog post to find out how we managed to organize the first summer vacation activities and stakeholder meetings during COVID-19! See you soon!