PARAMARIBO, 8 November 2018 – Prior to the school holidays Green Heritage Fund Suriname (G.H.F.S) made school visits to Junior Secondary General schools in Paramaribo to inform students about the Sea of Suriname. Last year this Expo traveled to different coastal communities from Nickerie to Galibi. This was a good opportunity to exchange information with people who are in daily contact with the sea and to hear their opinion on this subject. Now visits to political parties are on the program with the same goal as the school visits.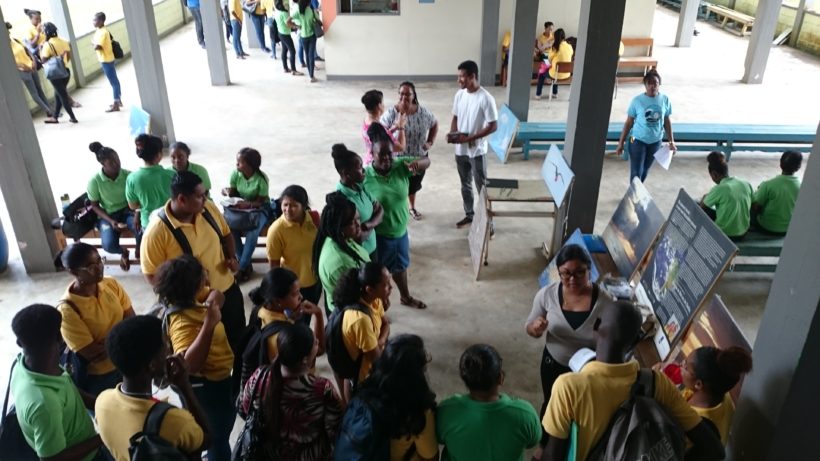 The photo expo has several impressive pictures of dolphins, sperm whales, seabirds and activities that take place in the sea of Suriname. Marijke de Boer, marine biologist, has taken these photographs in Suriname and also wrote the accompanying book "The Sea of Suriname". At each school visit a short quiz was also done to gauge the knowledge and interest in the marine area of Suriname and beyond.
Students were very enthusiastic about this project. In addition, various conversations with teachers and students have shown that there is a great demand for more information about "The Sea of Suriname". Although there is currently little information available about the sea of Suriname, there is a lot of interest in marine related studies by the students. A book was also handed over to the media library at each school so that they can use this during the lessons.
This activity is part of the project "See Marine Interactions" under the Shared Resources Joint Solutions Program. The ultimate goal of this project is to make a positive change in attitudes towards the marine environment. In the end, it is the intention that these actions not only enable us to better understand "The Sea of Suriname", but also strive for changes on a policy level for the better management and protection of our sea and coastal area.
What is Shared Resources, Joint Solutions
Shared Resources – Joint Solutions (SRJS) is a 5-year strategic partnership between IUCN NL, WWF Netherlands and the Dutch Ministry of Foreign Affairs. Together with more than 50 NGOs and civil society organizations in 16 low and middle income countries and international partners, the aim is to preserve healthy, biodiverse ecosystems to protect climate resilience, water supply and food security. This is done by strengthening the joint capacities to increase the influence in multi-stakeholder partnerships with governments and companies. Together the partners are working on strengthening their influence to successfully advocate for an inclusive and green development.
The Shared Resources, Joint Solutions (SRJS) program in the Guianas is aimed at protecting three ecosystem-based 'international public goods' – climate resilience, water and food security – in three critical landscapes: (1) the south of the Guianas; (2) the central part of the Guianas with the Greenstone Belt; and (3) the coastal zone and the marine area. The aim is to work on sustainably managed landscapes that provide the most essential ecosystem services that local communities and the wider economy depend on.