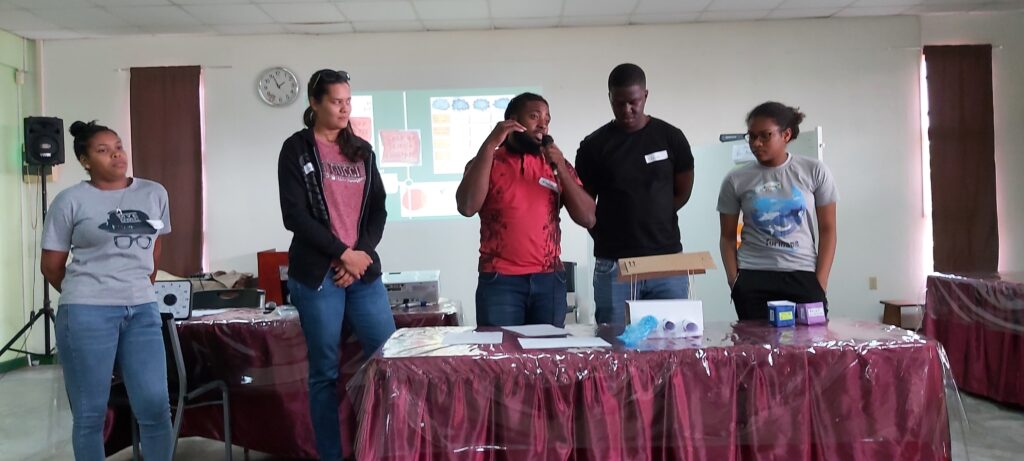 A methodology to create innovative solutions
Paramaribo, 7 April 2023. Written by Romke van der Lem en Lukas van den Oever. On Thursday, April 6th, the first Mangrove Design Thinking Workshop was held in Asewa Otono in Suriname. This workshop was organized by Green Heritage Fund Suriname (GHFS) and Monique Pool was the design thinking facilitator.

The importance of mangroves is increasingly understood by an greater number of people. Mangroves protect against rising seas and are an important habitat for many species of flora and fauna. As an ecosystem, they also store more carbon than ordinary tropical forests. However, the mangrove forests are under threat. Pollution, rising sea levels and climate change, among other things, are putting mangrove forests under pressure.
The workshop organized by GHFS can be described as a design-thinking hackathon. Design Thinking is a structured methodology to create user-focused solutions for complex problems. At the end of the workshop, the aim was to present solutions in the form of prototypes for mangroves problems. The participants ranging in age between15-29 were divided in teams to devise these solutions to protect our precious nature.
Prototypes presented
Prototypes were presented to reduce plastic waste flowing into the sea by team Akira and Pro Mangrove, the Man Grow team came up with a plan to appoint climate officers in schools. And the team of the Mangrove Warriors had developed a game.
The workshop was successfully completed. On Friday the 14th of April, the teams will have a chance to present their projects to a group of people professionally working with mangroves. This may give the students the opportunity to implement their innovative ideas.