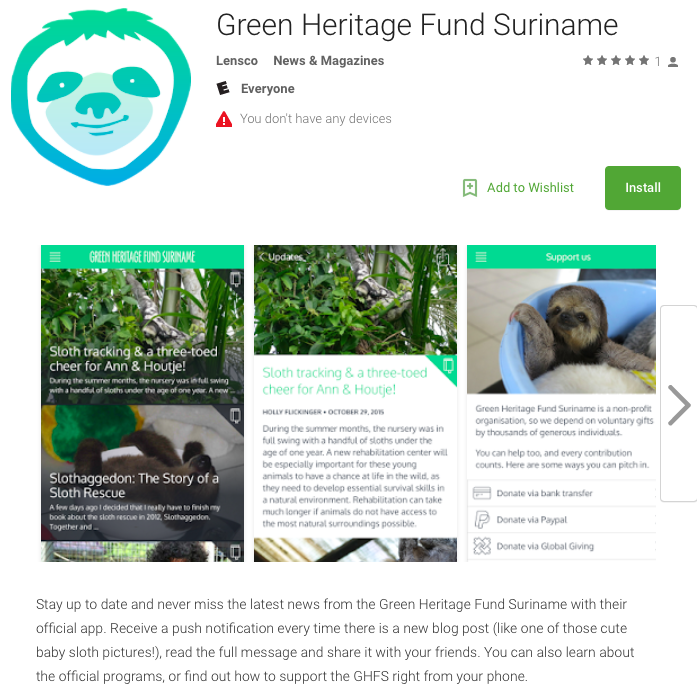 Altijd als eerste op de hoogte van het laatste nieuws van Green Heritage Fund Suriname met onze app! Verkrijg de app via de apple store of google play, je krijgt een melding in de vorm van een luiaard-icoontje op je telefoon of tablet iedere keer als wij nieuws posten op onze website.
App
Een luiaardje geboren, een mooi reddingsverhaal, leuke foto's, onderzoeksresultaten, aankondigingen van events. Wees nu van alles als eerste op de hoogte met onze officiële app. Items op de website verschijnen zowel in het Engels als in het Nederlands en zijn meteen vanuit de app te delen met je vrienden.
Download de app via: https://greenfundsuriname.org/app/
GHFS directrice Monique Pool over de app: 'Er gebeurt zoveel binnen de stichting, we maken zoveel mooie foto's en we hebben zoveel goede verhalen en achtergrondinformatie. Helaas is niet alles geschikt voor een persbericht of als bericht op facebook. Ik ben zeer verheugd dat we ook op deze manier ons nieuws kunnen delen met iedereen die geïnteresseerd is in Green Heritage Fund Suriname. Het icoontje van een luiaard gezichtje is ook zo leuk! Iedere keer als ik dat icoontje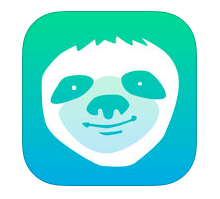 zie verschijnen boven in mijn telefoonscherm voel ik me blij.'.'
Over Green Heritage Fund Suriname
De Green Heritage Fund heeft als visie het creëren van een maatschappij van personen die bewust werken aan de voortdurende verbetering van hun milieu en een groen, schoon en gezond Suriname bevorderen. De Green Heritage Fund is een organisatie zonder winstoogmerk. De stichting is opgericht om alle Surinamers te bewegen wijze beslissingen te nemen over het duurzaam gebruik van Suriname's natuurlijke hulpbronnen.