Persbericht, Paramaribo 8 maart 2017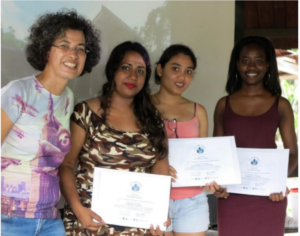 GHFS directrice Pool met GLOBE-trainers Kalloe, dos Ramos en Zebeda
Een feestelijk moment tijdens de vrijwilligersdag van Green Heritage Fund Suriname (GHFS). Travelling teachers Meriam Kalloe, Gabriella dos Ramos, Zequira Zebeda en Roshni Adjodhia (niet op foto) kregen van GHFS directrice Monique Pool hun officiële GLOBE-trainer certificaat. Hiermee hebben zij het bewijs dat zij andere docenten mogen trainen in het geven van GLOBE milieu-onderwijs.
De drie jonge biologiedocenten reizen Suriname door om op zowel scholen in primair- als secundair onderwijs, praktische lessen te geven over het milieu. Momenteel werken zij met negen scholen in zeven verschillende districten en zijn daarnaast bezig met het aanpassen van het GLOBE-materiaal aan de Surinaamse context. De ambitie is om dit jaar zoveel mogelijk districten kennis te laten maken met deze leerrijke en leuke vorm van milieu-onderwijs.
Over GLOBE

GLOBE (Global Learning and Observations to Benefit the Environment) is een internationaal educatieprogramma dat leerlingen leert zelf onderzoek te doen naar het milieu. Leerlingen verzamelen op een wetenschappelijk verantwoorde manier in hun eigen omgeving informatie over de atmosfeer (lucht), hydrosfeer (water), biosfeer (flora & fauna) en pedosfeer (bodem). Meedoen aan GLOBE draagt bij aan het milieubewustzijn van de leerling, alsmede aan wereldwijd onderzoek naar het milieu.