Plastic. It's hard to imagine a life without plastic products. While plastic can be useful, the manner in which we use it and dispose of it is often bad for both the environment and our health. This is especially the case with single use plastics. Single use plastics products such as straws, bottles, spoons, bags and more are designed to be used only once before they are thrown away or recycled. Unfortunately, a lot of times these products end up in landfills or even worse the ocean where they remain for millions of years. It's an inescapable epidemic, and it continues to surround us every day.
The subject of plastic pollution is something that comes up in all of our programs. GHFS has been conducting dolphin research since 2005. In an effort to protect these animals and their habitat, the ocean, GHFS aims to raise awareness about plastic pollution in the ocean.  Eighty percent of plastic in the ocean comes from land. Plastic in the ocean causes problems for marine animals who often mistake it for food. Once it is ingested, plastic can get stuck in their digestive system, causing them to suffocate or it can pile up in their stomach starving them to death. Furthermore, plastic that is digested by fish we eat, ultimately ends up in our body.
To prevent some of our plastic from getting into the ocean, Green Heritage Fund Suriname collects trash whenever its volunteers visit Braamspunt. The organisation has also organized several Clean ups along the coast of the Suriname river. All the trash that is collected is separated as much as possible and recorded. Unfortunately, after each clean up it is evident that most of the waste that ends up in our rivers consists of plastic. Eventually this all ends up in the ocean. To date we have collected 1554.52 kg of trash, 93% of this trash consisted of plastic items.
Plastic is not just a problem in the ocean but also on land where it ends up in landfills, along the sides of the roads or on beaches. The toxic chemicals in plastic leach in our environment resulting in problems for both the environment and our health. As a result of blockages caused by plastic waste in gutters streets become inundated. This and the piles of plastic waste that can be found in several places, provide an ideal breeding habitat for pests, such as  mosquitos.
After outbreaks of several mosquito-borne diseases, Green Heritage Fund Suriname launched the "Fighting Mosquito Borne Illnesses through STEM Education" project in 2017. This project not only educates people about mosquitoes and the dangers they pose for human health but it also emphasizes the dangers of man-made breeding habitats to public health. These types of breeding habitats attract the Aedes aegypti, a mosquito that can be a carrier for several diseases such as dengue, chikungunya and zika.
Besides our regular activities, the year 2018 has been a very productive year, filled with a lot of awareness sessions, beach-clean ups, media coverage, etc. It appears that more and more organizations are engaged in the prevention of plastic pollution. GHFS is frequently mentioned in conversations about the prevention of plastic pollution and is also regularly invited to activities related to this issue. We were also asked to be part of a brainstorm group of the private sector and NGOs that wants to work towards a ban on single use plastic bags.
Take a look at all of our activities related to plastic pollution prevention in 2018.
In cooperation with SuReSur and J.C.I, we organized 4 big cleanups along the coast of Suriname (Albina, Galibi, Weg naar Zee and Waterkant).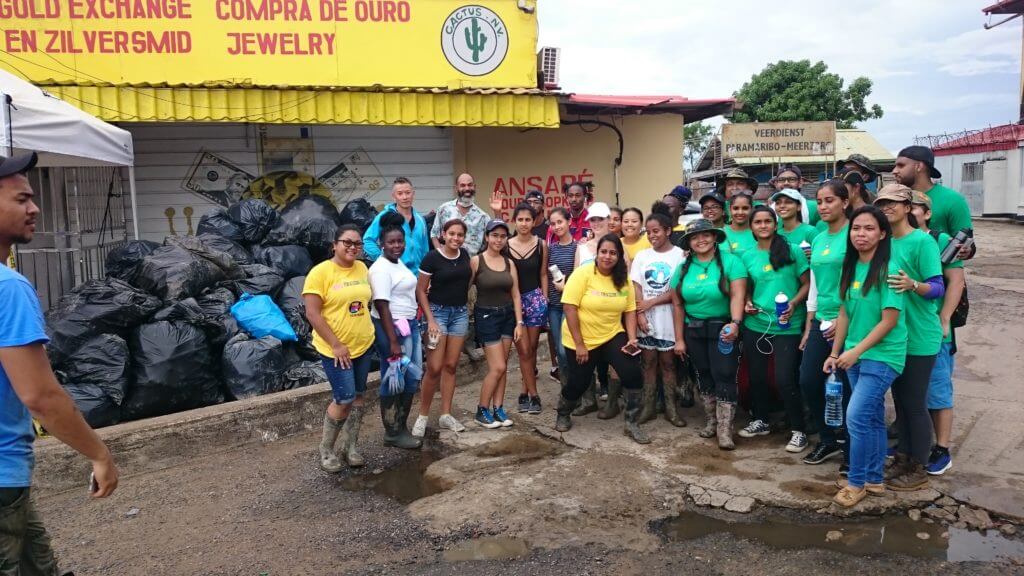 We organized two cleanups at the Braamspunt beach; one was was organized in cooperation with The Green Hope Foundation and Coordination Environment of the Cabinet of the President, and the other was. with students from Tulane University.
This year we traveled to several high schools in Paramaribo with our "The  Sea of Suriname" exposition. When talking about the ocean, the issue of plastic pollution always came up.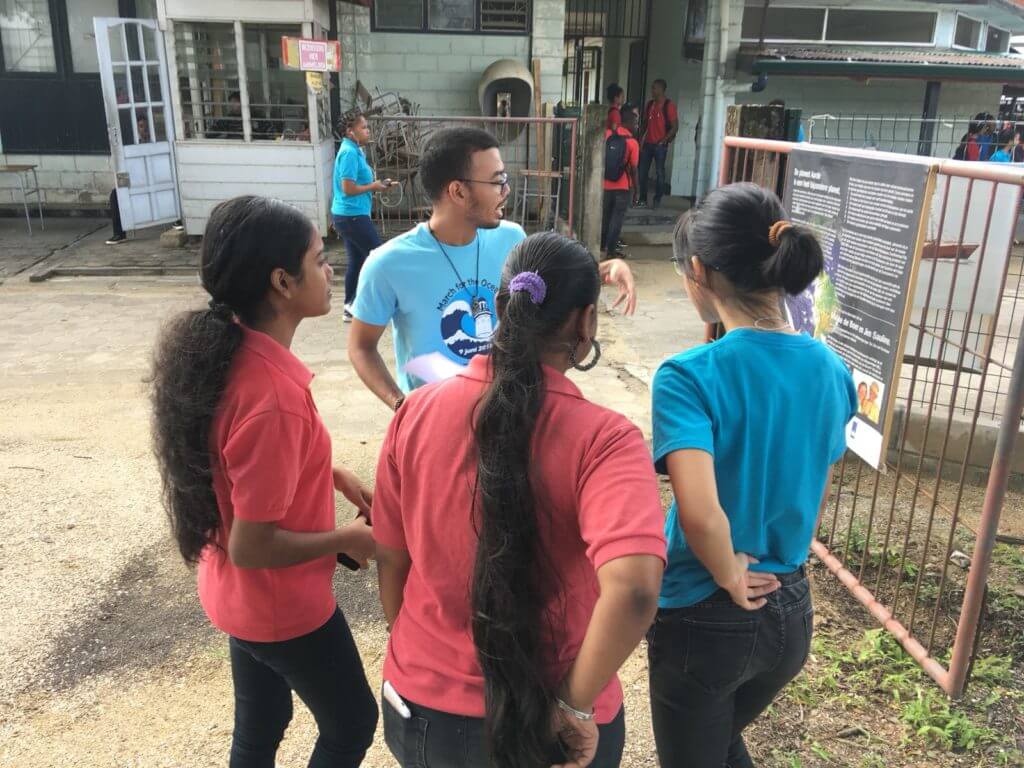 In honor of "World Oceans Day" we did a screening of the documentary "Mission Blue" in cooperation with the Sylvia Earle Foundation. Mission Blue tells the story of the life and work of oceanographer, marine biologist, and environmentalist Sylvia Earle. We also organized two movie nights in cooperation with the U.S.  Embassy. During the first movie night we did a screening of the documentaries "Humpback Whale", a documentary which provides an in-depth look at the lives of humpback whales and the challenges they face to avoid extinction, and "Straws", a short documentary about plastic straw litter and how we can make a sea of change. During the second movie night we did a screening of "Moana" an animated movie about an adventurous teenager who sails out on a daring mission to save her people with the help of the demigod Maui.  In addition to this we also organized "The March for the Ocean". The theme of the event was plastic in our oceans. The goal was to increase the bonding of Surinamese people with the sea and raise awareness about plastic pollution in our oceans.
Next year we will continue this and hope to reach more people. Will you join us on this journey?