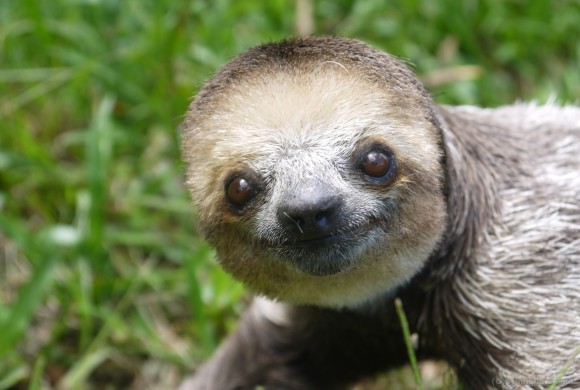 The third Saturday in October is the day that we celebrate International Sloth Day. This year it has even more significance for me, as I am attending the 3rd International Sloth Meeting in Panama hosted by the Panamerican Association for Conservation (APPC).
Panama is home to the critically endangered pygmy three-toed sloth (Bradypus pygmaeus). This incredibly cute (by the looks of it) animal has a very limited home range on a Panamian island near Panama's Atlantic Coast. Less than 100 individuals are still around. Education will play a crucial role in ensuring that this animal will not go extinct in the foreseeable future. My friend Dra. Diorene Smith Cabellos was this week going around to schools in the rural area near the Island of Escudo de Veraguas to teach children about this very special animal and why we should work together to make sure it does not go extinct in our lifetime.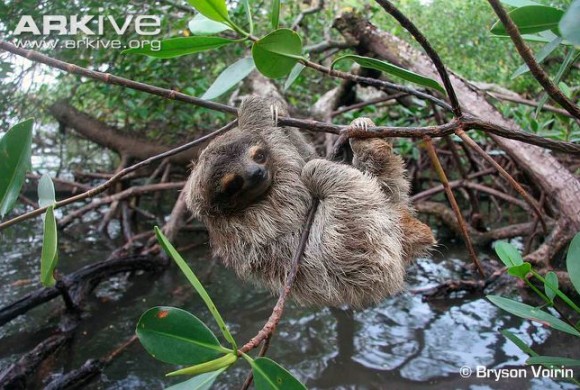 During the meeting in which 6 countries were represented – Brazil, Colombia, Costa Rica, Panama, Suriname and the United States of America – we all agreed that we need to raise more awareness not just about the pygmy three-toed sloth of Panama that is now critically endangered, but we need to raise awareness about all six species of sloths to ensure that they will not become endangered. We also need more research on what will be essential for these animals so that they can continue to live a life in natural surroundings that are not only rich in diverse plants, but that allow them to live in peace without interference from humans.
Representatives of all range countries recognized that forest fragmentation is one of the most important threats to the animals, as well as trafficking for the pet trade. Like so many other animal babies, sloths look very cute and cuddly, but they do not make good pets. They do not like to be touched, they are by nature solitary and have a very sensitive nature. The cuddly animal ambassadors that you may see in Zoos around the world, were in most cases born in captivity, and are exceptions. In our facility we limit handling, and do not try to be parents to the orphan babies we receive. They are in most cases paired with long-term sloth residents, often males that had their claws hacked of, and who tend to be very kind to baby animals. We only touch animals when there is a strict need for it, because all animals should remain wild enough to be returned to the wild.
So I encourage you to sit back and relax, and to make today and maybe even tomorrow a special slow day and spend time educating yourself about sloths and about the amazing work that is being done in Brazil, Colombia, Costa Rica, Panama, Suriname and the United States of America to keep sloths safe and in the wild.