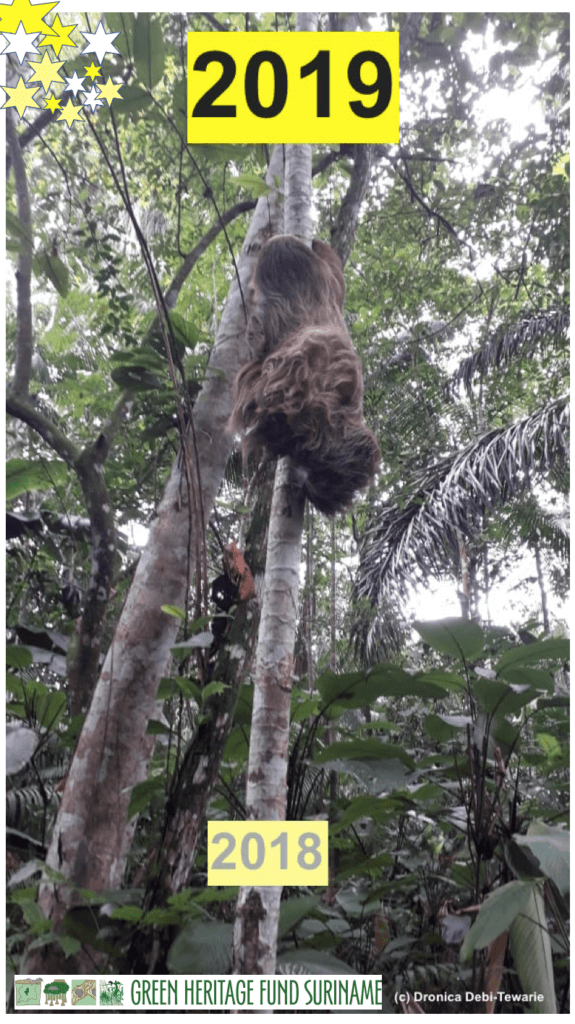 We had a wonderful year! Slowly things started falling into place after a bit of a chaotic ending of 2017. But, things started lining up. Animals and humans started getting used to our their new home. We had to say farewell to our most precious friend Isa in February, a bright star now in the Constellation of Sloth we can see from the sundeck. 19November had a baby, Beertje enjoys both the trees and the good food we give him. Jinkoe and Ostrich sleep sometimes at home, and most of the time spent looking for a breeze and fresh leaves in the forest. Angel and Rory were well trained by their foster mothers Ostrich and Jinkoe and decided they prefer the trees over the center.
Many animals passed through the center this year. We released some on the day of our opening on the 2nd of November by Roline Samsoedien, Minister of Spatial Planning, Land and Forest Management with assistance by District Commissioner of Saramacca, Laksmienarain Doebay, and the Permanent Secretary of her Ministry, Ms. Leandra Woei.
Our bus was knocked over at the end of November by an irresponsible driver. But we are not stopped in our tracks by this, we are continuing our work thanks to the wonderful cooperation among the volunteers and collaborators of Green Heritage Fund Suriname. And we are ending 2018 with even today (30th of Dec) two releases and will start the new year on a very positive note with a Medicine of Sloth Workshop for Veterinarians and a Wildlife Welfare Workshop for everyone who is interested. And many other activities moving the well-being and health of the animals and humans forward. Moving our bond with nature better into focus for us all to understand.
Thank you for your continued support and thoughts and activities to support us. We and the animals greatly appreciate your support. We particularly thank our partner Welttierschutzgesellschaft e.V in supporting our work with the sloths, anteaters and armadillos.
We are wishing you a Green, Clean and Healthy 2019!