Empowering Women in Nature Conservation: Argentina and Beyond presented by the Women for Wildlife Network and the University of Buenos Aires, 25-27 April 2016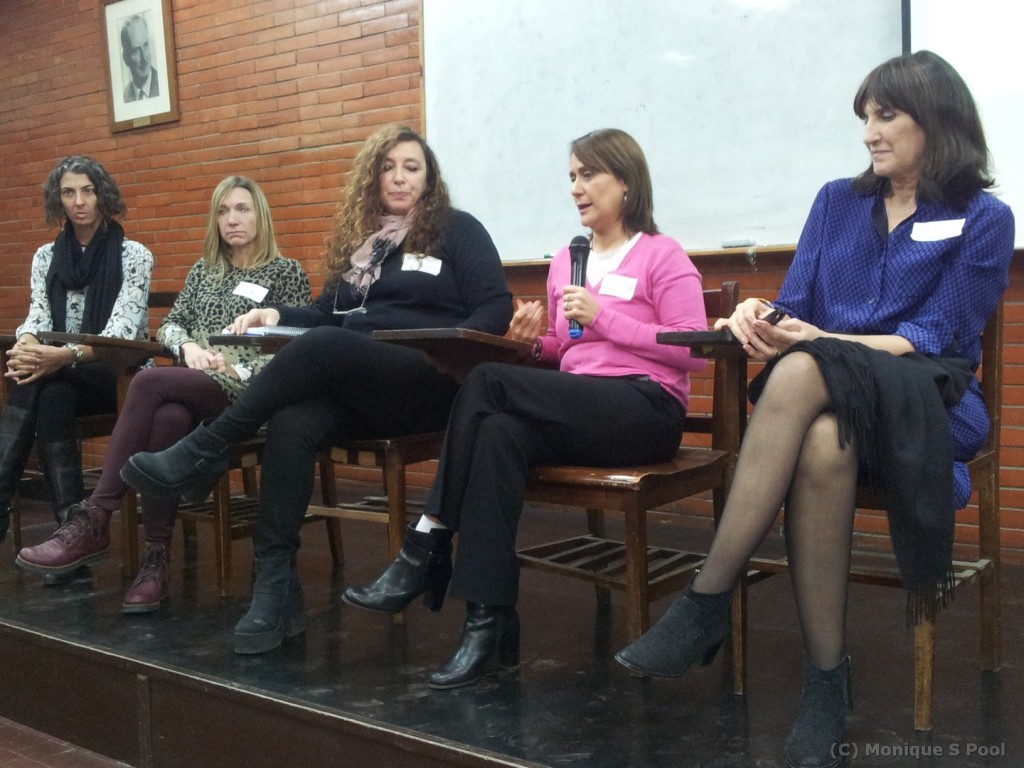 The past days I had the pleasure to be in the presence of some amazing female conservationists who were looking at how to support young women, both scientists and practitioners, who want to enter the field of conservation. The network started with 12 women working in conservation several years ago, who met each other through their work and who wanted to continue working together and also creating opportunities for young women starting their careers. With the establishment of this network they chose several avenues to work in, one being the creation of a network of mentors and mentees. Another one being the organization of network and capacity-building meetings. And I had the honor to be one of the keynote speakers at their very first meeting in Buenos Aires, Argentina.
Impressions
Keynote speaker, Bibiana Vilá, Principal Researcher at CONICET, spoke about her life as a scientist, and the perception of female scientists doing fieldwork. Her story of working for the past 23 years in the Altiplano with vicuñas, a wild camelid species of South America, highlighted that women have to deal with much different issues in their research careers then men. Whereas men are seen as heroic scientists doing fieldwork, women are viewed as bad mothers leaving their families behind in the care of the poor father or other family members. For many years Vilá used to take her two sons with her to the field.
When she started involving in her work with the endangered vicuñas the local communities, thus entering the field of conservation, she encountered other obstacles. Trained as a biologist, Vilá found that to work with the community living in the Altiplano to conserve the vicuñas by creating an economic incentive for the community to do so, she had to change within CONICET to another research group, because at the time, etnobiology was not yet an existing field of science. Conservation is after all a multidisciplinary approach to working with (endangered) species and humans in an attempt to create mutual benefits for both humans and animals. It is clear that Bibiana Vilá has a lot to offer to young women entering the conservation field, not only as a seasoned scientist, but also as a woman and mother, who knows the challenges that lie ahead for young women in science and conservation.
Sally Ride Conservation Symposium
During the second day, a varied program was presented that started in the morning with Plenary Speaker Sofia Heinonen of the Conservation Land Trust Argentina, who told how her career evolved out of being involved in a volunteer environmental group into a career purchasing land and creating conservation parks. Panels followed with seasoned female conservationists telling about their careers in conservation and the challenges they encountered, but also about the successes achieved working with local women caring for their environment. Patricia Gandini, another remarkable Argentinian conservationist, provided us a glimpse in her work running the national parks service for many years. An intensive job that indeed exacted a toll on her family life. Within that context I learned about ecofeminism, a word for what women do naturally in my opinion. A panel of young women conservationists provided insights in how the network can help them overcome some of the obstacles they encounter in their budding careers.
Workshop
On the third day, it almost appeared as if the group had doubled in size, when we started the workshop in Personal Leadership Development under the involved guidance of Robyn Dalzen. We were now really getting to know all the other people by exchanging ideas about leadership in personal 1 minute exchanges with as many of the other participants, which provided for interesting perspectives. And Robyn presented us with exercises that really made you pause and reflect, especially about listening, being open and seeing different perspectives. The second workshop on how we could build an effective network by Jessica Deichmann was a clear starting point for how to stay in contact with and within this Women for Wildlife network that had now been expanded beyond the founders and their mentees, to include seasoned and young Argentinian conservationists and further spanning our beautiful planet in an effort to mutually support women working in conservation. In all it was a rewarding three day meeting, in which I made many new friends in conservation.