Carola Poleij and Stellar Tsang presented adapted GLOBE materials for Suriname to the scientists of the National Atmospheric and Space Administration (NASA) at the end of July during the GLOBE annual meeting in Estes Park, Colorado (USA). This annual meeting marked the 20th anniversary of this science education program that is being implemented in 117 countries, including Suriname.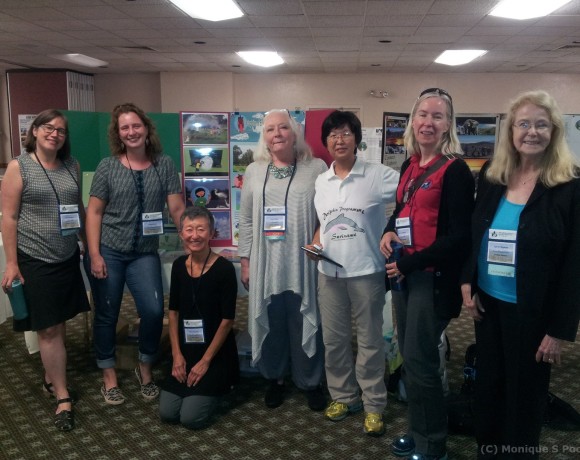 The general goal of GLOBE Suriname is to offer students of primary and secondary education the possibility to conduct scientific research in their own surroundings. Participants collect data of amongst other things the soil, air, water and weather, gain knowledge about differences in the environment (for example the natural and urban environment) and work together with children from different countries conducting similar research from within a GLOBE school. The program aims especially at providing Surinamese children/ students with an opportunity to participate in international projects that focus on maintaining a livable planet and fighting against the destruction of the environment. Moreover, the participants learn valuable skills that will come in handy in their future careers, such as working accurately, entering data in the computer, conducting research and how to formulate a research question.
The project of which this educational activity forms a part aims at making the inhabitants of Brownsweg aware of the risks of climate change and is financed by the ALCOA Foundation. Using the adapted GLOBE materials and a weather box the children of the local schools at Brownsweg will collect information about the weather. This information will be available to local researchers and for climate researchers globally. In this manner the youth of Brownsweg will contribute to global climate research and they will also gain more insight themselves in climate change and its consequences.
GLOBE
This global educational program was established under former Vice-President Al Gore, to conduct research into nature and the environment, and was introduced on World Earth Day in 1995. The vision of the program is to have a worldwide community of students, teachers, scientists, and citizens working together to better understand, sustain, and improve Earth's environment at local, regional, and global scales. And its mission is to promote the teaching and learning of science, enhance environmental literacy and stewardship, and promote scientific discovery. The program is jointly sponsored by NASA (National Aeronautics and Space Administration), NOAA (National Oceanic and Atmospheric Administration), the NSF (National Science Foundation) and the State Department who all promote the study of and research of Earth's environment.