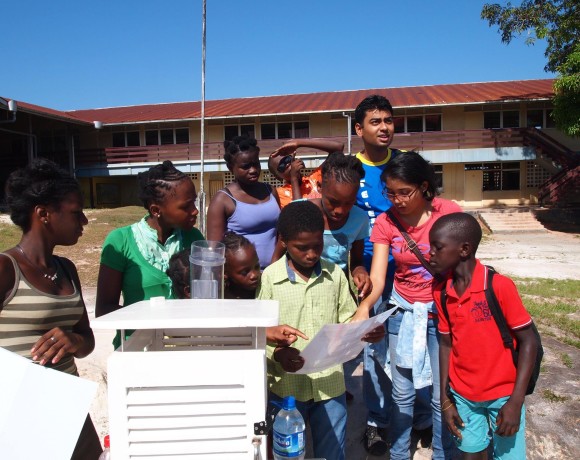 Today Green Heritage Fund Suriname started a holiday activity in Brownsweg. Children will do real scientific research into the weather during a period of three weeks. This educational project is part of a larger project (with financing of the Alcoa foundation) Which helps the inhabitants of Brownsweg To get a better grip on the tangible consequences of climate change.
The weather influences our daily lives. It is important to have an idea about the weather in your own surroundings, so that you can adapt yourselves to these weather conditions. Thus it is important to know how much it rains, so that you have enough water for yourselves and possibly your agricultural plot. If there are strong winds it is smart to ensure that everything on and around your house is well attached so that you cannot be hurt nor your house be damaged. The inhabitants of Brownsweg themselves indicated that they want to know more about the local climate because they have noticed that in the past 10 years the weather has changed and has become more extreme.
To study the weather a real Stevenson screen was installed at the school. The Stevenson screen contains a thermometer, a rain gauge and a GLOBE cloud chart. The information gathered is uploaded in a large database and used by climate researchers all over the world. Next to taking measurements at the Stevenson screen the children also undertake other assignments that have to do with weather research. For example, using a PET bottle they will make their own rain gauge and thermometer.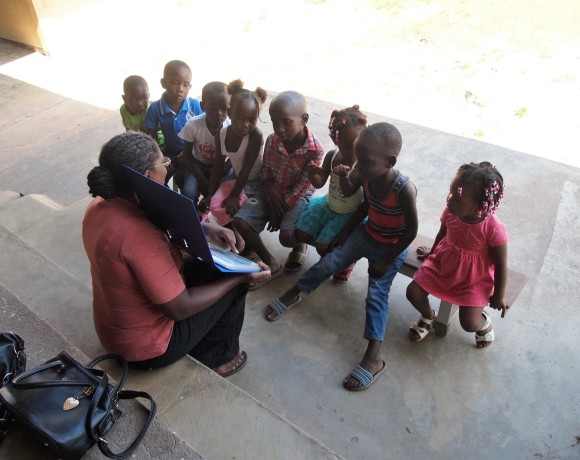 Monique Pool, Director of GHFS is especially glad with the practical aspect of the holiday activities. 'Because the children conduct the research themselves they are able to make the connections between theory and practice. In addition, the children learn skills that they can use for the rest of their lives, such as: working accurately, how to use measuring equipment and entering data into computer,' according to Pool.
GLOBE
GHFS uses materials of the international educational program GLOBE (Global Learning and Observations to Benefit the Environment). This global educational program that was established under former Vice-President Al Gore, for research into nature and the environment was introduced on World Earth day 1995.  The vision of the program is to obtain a worldwide community of students, teachers, scientists, and citizens working together to better understand, sustain, and improve Earth's environment at local, regional, and global scales. The program is jointly sponsored by NASA (National Aeronautics and Space Administration) and the NSF (National Science Foundation) with support from the National Oceanic and Atmospheric Administration (NOAA) and the Department of State, who all promote the study of and research into the environment of our Planet.
Visit also our GLOBE Suriname Facebook page for more information