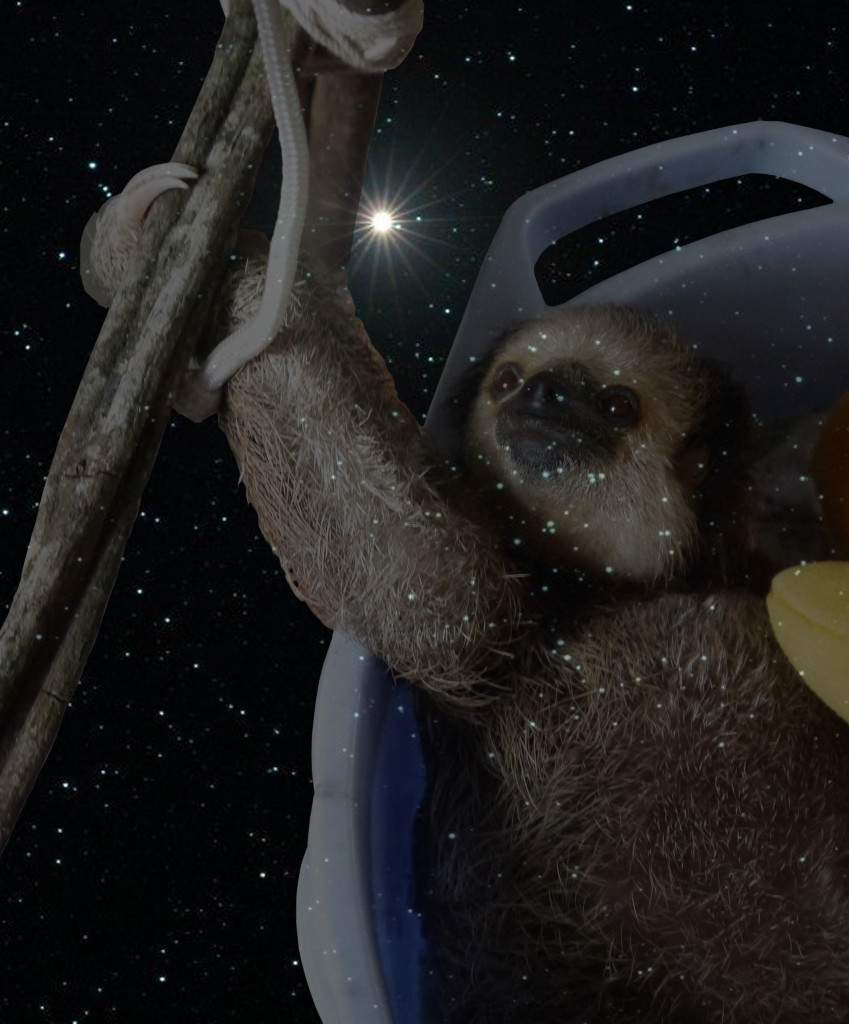 When you hear that there is talk about stars and constellations, you already are bracing yourself for unpleasant news. Someone must have died. And indeed, regrettably we do not always have good news. One of our most beloved and followed little friends has taken his place in the Constellation of Sloth. Our little friend Glenn, who was doing his best to hang on to see his new home become a reality. Although Glenn loved his food and his sloth smoothie, he failed to thrive and somehow did not seem to get all the nutrition out of his food. At a certain moment we even decided to help his digestion by adding probiotics to his diet. Glenn received a lot of love from our overseas and local volunteers. Gabriella, Esi, Greta and Kasie – all from their respective countries to help us care for the animals and also with our other projects – and our local volunteers Ann, Stellar, Yvonne, Lori, Jonathan, Kavita, Patrick they all helped him in their own way and loved him dearly. Our vets Audrey and Leontine both gave their expert assistance. Patrick built him his special climbing rack, the other volunteers gave him smoothie and fysiotherapy and all of us gave him lots of love. He was our little star. He was persistent and did not want to give up, but his small body was failing him. I guess why, we will never know. Maybe he had left his mother so early that he missed some essential bacteria in his gut to assist him in getting all nutrients out of his food, maybe the antibiotics for his infected wound caused a negative side-effect, we will never know. What we do know is that we have to prevent animals from being shot in the first place, because then little Glenn would not have to face the ordeal he had to without his mum. Our centre will have an important educational function, and stories like the story of Glenn will be highlighted to make people understand why target practice on life animals is wrong. If love could have saved Glenn, he would have lived forever.
Glenn's story
Baby Glenn came in huddled in a small box. The young lady, who did not want her picture taken, told me that she had found the baby in an overgrown plot in her street. She thought the mother was dead, but did not know for sure. They had fed him bread, milk and bananas and had fed him with a bottle. Her friend had tried to sell the animal through facebook, but received threats and kind and unkind nudges to give the animal to the Green Heritage Fund Suriname. They panicked and tried to get the animal over to our facility as soon as they could. It was Easter Monday, a national holiday, and we had gone out to release some animals. They were waiting at the gate as we pulled up the car. Before she hurriedly left, she said: "Oh, his name is Glenn". Glenn stole everybody's heart with his good looks and eager attittude when we were feeding him. Although I had noticed something on his leg, I had not thoroughly examined him as our vet was also out of the country. But then one of our volunteers complained that he smelled. When we examined him, we found an infected  shotwound in his hindleg. Now we were sure that his mother was dead. We cleaned out the wound immediately, and brought him the next day to another vet, who again cleaned and inspected the wound and confirmed it was a shotwound. He received medication and we continued to clean it out daily. Glenn received physiotherapy as his leg was weak and he was not so good at moving it. His growth was also stunted and our vet Audrey regularly came to check on his progress. For Glen the Rehab center cannot be built fast enough. However, the heavy rains of the rainy season delayed the construction activities.
More sad news
Strange enough, the week in which Glenn died, was a week of more sadness. Not only was I taking Glenn in and out of the office of the vet, we had another patient, also with shot wounds, who had arrived on the 31st of August. She was barely alive when I collected her from the zoo. She also must have been target practice for some stupid idiot. The animal had been found near the Zoo and she apparently had given up. We rushed it to the vet who gave it infusion fluids and looked at what I thought was a bullet wound. The next day it was again examined, one bullet was lodged in its paw, the other one in its back, a few centimetres from the spine. We thought she was going to make it, because she was eating very well, despite being in a lot of pain. However, after a full week, we realized that she was paralyzed to the extent that she could not release herself. Together with our vets Audrey and Leontine, I had to take the difficult decision to let her go. She joined our Little Bright Star Glenn, who had passed away a few days earlier in the Constellation of Sloth.