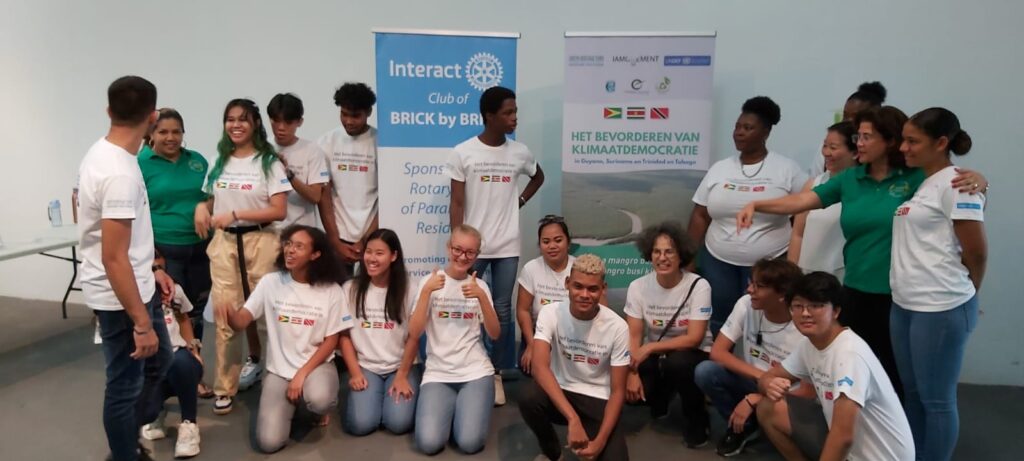 Advancing Climate Democracy in Guyana, Suriname and Trinidad and Tobago



'Advancing Climate Democracy in Guyana, Suriname and Trinidad and Tobago' is a joint project, pioneered by IAMovement, in partnership with the United Nations Democracy Fund, and is being implemented with partners in Guyana and Suriname. With Implementation partners in Trinidad and Tobago, Guyana and Suriname, including The Cropper Foundation, The Energy Chamber of Trinidad and Tobago, Guyana Environment Initiate and the Green Heritage Fund, this project aims to increase stakeholder engagement across the three countries. The project countries were selected because all three nations are important players in the fossil fuel energy space.
For that reason, opportunities therefore exist for knowledge sharing on lessons learned across the countries as it pertains to smart and sustainable energy resource management, citizen engagement in these processes, as well as geographic proximities. Furthermore, the three countries are located in the same geographic region. In its first year of implementation, this project has made  tremendous strides in Trinidad in increasing the social connectedness of national stakeholders in the climate arena.
This project's overall objective is to 'drive greater prioritization, engagement and influence of citizenry on climate issues, solutions and related policy in Guyana, Suriname and Trinidad & Tobago.' In keeping with this objective, the first milestone event publicly launches the 'WeClimate App', as shown in the graphic in Figure 2 below. This App will be launched as a Version 1 (V1) which will then accomodate additional features, together with gamification approaches to foster engagement from younger demographics, later this year. This will form the Version 2 (V2) model of the App.
In addition, this project will see the execution of one hundred (100) Climate Talk events (30 each – Guyana & Suriname and 40 -Trinidad). These climate talks will be held at various schools, both Primary and Secondary, and public spaces. This activity will be executed across the project countries including to remote areas within the next year with the aim of engaging over three thousand (3000) individuals.
These Climate Talks will be tailored based on the dynamics of each project country. The general outline for Trinidad & Tobago consists of introductions, overviews of IAMovement's 'educational climate movement' over the years in T&T, the show casing of selected educational content (high quality videos and/or documentaries produced by IAMovement). In addition, these will be integrated with 'open floor' style discussions featuring Q/A, calls to action, and often prize opportunities. Due to the nature of the sessions which aim to make relevant content (such as land regeneration activities, or sustainable energy) very 'bite sized', relatable, and accessible to all;
participants often leave inspired, engaging and desiring to take certain positive climate actions in their own lives moving forward.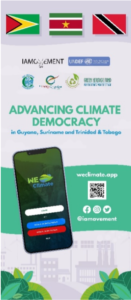 Figure 2: Project Launch Banner
Important activities under this project, within the three countries, Guyana, Suriname and Trinidad and Tobago, include:
Developing a climate database which would collate information on key climate issues and solutions- including mitigation and adaptation data
Develop and share educational tools and knowledge products with national stakeholders and the wider citizenry of Trinidad and Tobago. These would include video content, gamification approaches to engage citizens and implement a library (through the V1 of the WeClimate App)
Implement two specialized Youth and Community Leader 'climate champion' training day- events in Trinidad and Tobago.
Develop civic policy working groups to address relevant policy in each country.
Establish parliamentarian partnership groups to join the civic working group and form a civic-parliamentary partnership.
Host a national consultation event spear headed by the Civic Working group in Trinidad and Tobago.
Trinidad
From the project's inception in July 2021 to present, Climate Talks at Public Space engagement arenas like NIHERST's Sci-Technofest 2022 event, on March 27 th , was conducted to raise awareness of climate resilience across a variety of stakeholders and various age groups. The first stakeholder engagement meeting of corporate and industry level, public and private stakeholders has been organized by The Cropper Foundation and is confirmed for April 28 th with the express aim to engage these stakeholders in forming the civic working group. In addition, the launch of the WeClimate App is set for April 21 st and is anticipated to drive further uptake, interest and engagement in the project among the citizenry of Trinidad and Tobago.
If you are interested in learning more about the progress of the project in Trinidad and Tobago, follow @IAMovement on Facebook and Instagram to learn more. You may also email IAMovement about the programme at [email protected].
Introduction to IAMovement
IAMovement is a non-profit organization which was founded in 2014 by a group of passionate young people who came together feeling a strong common need to effect positive environmental & social change in T&T.
IAMovement's two (2) main areas of work over the years since its inception have been focused on:
i. Climate Mitigation; and
ii. Climate Adaptation